Nepal Officials Consider LANDex as Tool for National Processes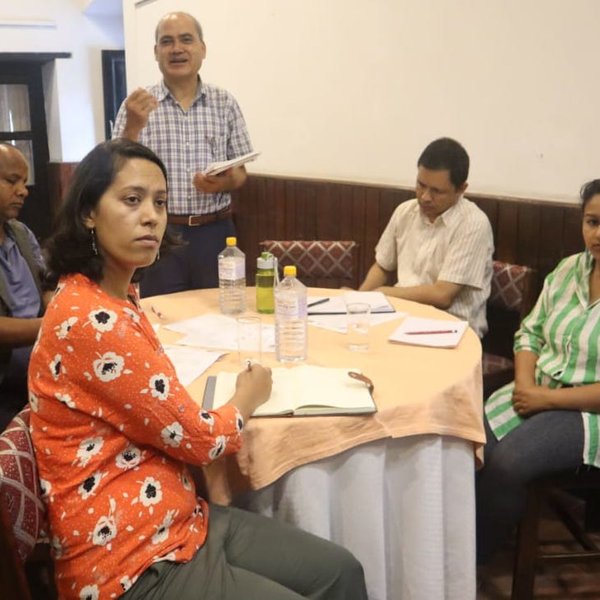 ---
The LANDex pilot team led by NES Nepal and the Community Self-Reliance Center (CSRC) held a roundtable debate with stakeholders today in Lalitpur, Nepal to discuss preliminary LANDex results for the country.
As emphasized by Dharm Raj Joshi, who led the implementation of the land monitoring tool in Nepal, the objective and aim of LANDex is to create national-level data on land governance that offer insights into the local reality while providing globally comparable data that contributes to monitoring the Sustainable Development Goals (SDGs) and the Voluntary Guidelines on the Responsible Governance of Tenure (VGGTs).
The ability of this data to work on many scales, and its direct contribution to global monitoring frameworks, attracted representatives from the government, who attended the meeting. An honorable member of the National Planning Commission (NPC) of Nepal expressed his commitment to adopt and include LANDex in their national processes while a representative from the Ministry of Land Management underlined his commitment to further develop the use of LANDex as a robust tool for data collection. The government produces a lot of data daily but they don't have a proper system of recording this data, he said, explaining that LANDex could also be of benefit to the Nepal government.
The deputy general director of the Central Bureau of Statistics (CBS) recognized the data gap highlighted by LANDex pilot results. He underscored the interest of CBS to further engage in the initiative while indicating that some of the LANDex indicators could be considered for the upcoming Population Survey as well as the Agricultural Survey slated for 2022.
Dalit activists at the roundtable discussion raised the possibility of adding specific indicators that would address land issues specific to the Dalit population, while representatives from Nepalese universities also showed an interest to contribute to the initiative in light of the scant data on land issues available in the country.

Other CSOs and UN agencies expressed a desire to have contributed more if they had known earlier about the initiative. But as the pilot phase in Nepal was just that – a pilot – there will be more opportunities to further enrich the project through their contributions. Everyone in the room emphasized that the continuation of LANDex should be a joint and collective effort.